It's a great question. And I'm glad I asked it for you. Now let me answer it. There are several ways to identify the specific medical device implanted in your body. (A medical device is any manufactured device–like an artificial hip–implanted in the body for the purpose of resolving an injury, curing disease, or improving a person's health. Medical devices can be artificial joints like hips and knees and shoulders, heart stents and pacemakers, IVC filters, hernia mesh, and hundreds of other examples.)  Some ways of identifying exact product components are better than others. Identifying the medical device several different ways is the best of all.
Product Stickers: The Gold Standard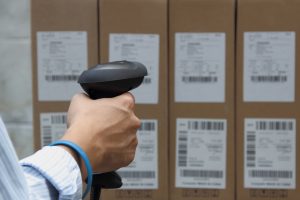 It all sort of starts with "product stickers." These are the identifying stickers that are attached to the box containing the medical device, and they can be peeled off and affixed to a nurse's hospital note or to another page in the hospital or surgeon's record for the implant surgery. It goes something like this: the representative for the device maker shows up with the artificial hip components (or other medical device). The surgical nurse or the surgeon will double check that the components are the precise ones needed for the surgery, scan them into the system and note them in the record. The nurse will then peel off the product stickers and attach them to the hospital record and include them with all the other pages of documents explaining details of the surgery. The image at right is an approximation of what the stickers will look like: a bar code, the name of the manufacturer, the specific product name, the Lot and Reference numbers, and other identifying information.