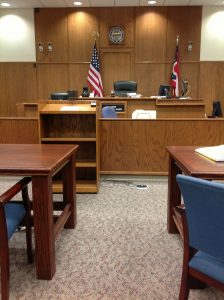 I will not forget my first jury trial. It was many years ago, not long after I graduated from law school, and let's just say I was in over my head a bit. It was a simple car crash case. I represented a driver who was rear-ended and injured (but not seriously). I walked my client through his direct examination, and I thought it was going well. Then the insurance defense lawyer was given the opportunity to cross-examine my client. He asked simple questions about the severity of the injuries ("were you able to return to work a week later?") and after eight or ten of these questions, I objected. The judge peered down at me over his reading glasses:
"Counselor?"
"Yes your honor, I object."
"On what grounds?"
"This line of questioning is prejudicial."
"Prejudicial?"
"Yes, your honor. I move to strike the testimony as prejudicial."
The judge sat back in his chair. "Mr. Hodges, wouldn't every question on cross-examination be prejudicial to your case?" This query reminded me of the complete language of Rule of Evidence 403: The court may "exclude relevant evidence if its value is substantially outweighed by a danger of . . . unfair prejudice." I had remembered most of the rule, but not the key word: unfair. All evidence presented in any court case is supposed to be prejudicial to the other side's case. To exclude evidence under Rule 403, the testimony must be unfairly prejudicial.
But the judge was still waiting for my answer. The jury waited too. I tried my best:
"Well, yes, your honor. But this testimony is unfairly prejudicial." At least I had finally wedged in the key word.
"I don't think so, counselor, objection overruled."