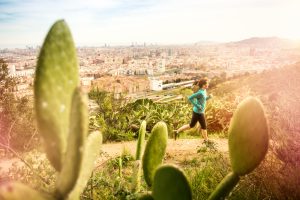 I was reading an article about the latest study touting the benefits of exercise. It was stunning. The study involved analyzing the brains of two groups of mice: one group in a cage with an exercise wheel; the other in a cage without the wheel. Researchers watched the mice for four weeks. Predictably, the mice with the exercise wheel exercised; the mice without the wheel did not. After a month the scientists measured brain activity in both groups.
Turns out, running and other forms of exercise produce a protein in the brain called "brain-derived neurotropic factor" or BDNF (I feel smarter just writing that name). This stuff is very good for your brain. BDNF promotes the growth and vigor of neurons. BDNF has also been shown to strengthen the synapses that connect neurons, which allows the brain to function better. Low levels of BDNF has caused cognitive decline in people and animals. Exercise increases levels of BDNF in the brain.
Exercise Promotes BDNF and Ketones
In the study scientists discovered that in the brains of mice who exercised regularly, a molecule which blocked the growth of BDNF was less effective. As a result, much more BDNF was produced in the mice who exercised. Sadly but predictably, less BDNF was produced in the sedentary mice. Researchers also found that the exercising mice produced ketones which make their way to the brain and fight off the bad molecules and further promote the growth of BDNF. The guy who directed the study, NYU professor Moses Chao, said: "It's incredible just how pervasive and complex the effects of exercise are on the brain."
You can check out the new study here. It's the latest in a long line of studies which prove time and again that exercise is vital to your health. Seriously, people have to exercise. Not exercising causes all kinds of physical and mental problems.