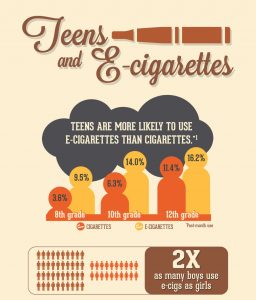 These days the e-cigarette headlines mostly involve people who have suffered serious and even mysterious illnesses as a result of vaping devices. And maybe that is as it should be. But for me, one of the more devastating aspects of this e-cigarette nightmare is that today millions of school-age children have become addicted to nicotine, an addiction most of them would have never suffered if e-cigarettes were not marketed to children.
Childhood Nicotine Addiction is No Accident
JUUL Labs, Inc. targeted children in its marketing campaigns. The company spent millions promoting kid-friendly fruit-flavored vape pods. JUUL paid for and developed social media campaigns on Instagram, YouTube, Twitter, and other platforms. Although the main JUUL Instagram account is now inactive, many other JUUL or vape-related sites feature young people exhaling clouds of the white vapor while sitting on a beach, on the bleachers of a school football field, or driving around town. Congress developed evidence last year that JUUL created an "influencer program" with more than 25,000 social media personalities paid to market the JUUL device to teens. And it worked. As the graph at right shows, seven in ten teens were exposed in some form to e-cigarette advertising.