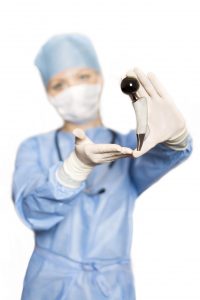 If you have been the victim of a failed medical device like a metal-on-metal artificial hip, you may not ever think about preserving evidence. But it is essential to your product liability case. In this post I want to give you some tips about preserving medical device components that have been removed ("explanted") from your body in a revision surgery. This information is important for all those undergoing revision surgery, but especially those of you who hope to pursue a product liability case without a lawyer.
Here is a quick illustration: You undergo hip replacement surgery in October 2009. In August 2010, you receive a letter from the manufacturer of the artificial hip stating that a recall has been issued on the medical device implanted in your body. Since the device is implanted in your body, you can't easily turn it back in for a refund. So you monitor the situation. Ten months later, you begin to feel discomfort, and then outright pain. After a few more months you and your orthopedic surgeon decide to have the device removed in a revision surgery. In this operation, the surgeon will remove the defective parts of the artificial hip and replace them with new, non-defective parts. Those removed parts will sit on a surgical tray, and after the surgery they will end up . . . somewhere. They could be thrown out; they could be placed in a Ziploc bag and abandoned in a storage room; they could be handed over to the medical device manufacturer's representative, who is often in the room during your surgery.
But they need to go to you.
Quite simply, before the revision surgery, the patient should take steps to ensure that he or she will be given the explanted medical device components. This usually involves careful conversations with the surgeon and the surgeon's nurse or other staff. Unfortunately, most patients have no idea that need to take this step.