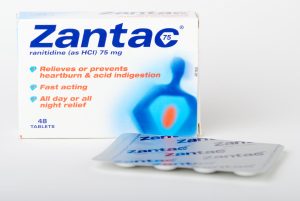 In Part 1 I discussed the concept of the Master Complaint in product liability multi-district litigation, and we also set the table with the plaintiffs and the many defendant-companies involved in the Zantac litigation. Now let's keep grinding through the Zantac Master Complaint. The story of Zantac, the presence of the carcinogen NDMA, and the links to cancer can be found in the Factual Allegations, beginning on page 39 of the Master Complaint. (Note that I use the brand-name Zantac and its actual name ranitidine mostly interchangeably in this post.)
These are the key elements of the story:
Inventing and Selling Ranitidine
Ranitidine is a medication relieves heartburn and acid indigestion.
According to the Master Complaint, it was developed by GlaxoSmithKline (GSK) predecessors to compete with other "histamine H2-receptor antagonists" on the market, particularly Tagamet (cimetidine).
A scientist working for a Glaxo subsidiary discovered ranitidine in 1976.
In 1983, the FDA granted approval for Glaxo to sell Zantac.
The prescription drug was a smash hit for Glaxo, the first drug to make $1 billion in sales.
GSK turned Zantac into a blockbuster in part by driving sales. It added 800 salespersons to Zantac's U.S. sales force.
In 1993, GSK introduced an OTC version of Zantac, which it began selling a few years later.
Over the next twenty-five years, other Defendants acquired the rights to sell OTC Zantac, including Pfizer, Boehringer Ingelheim, and Sanofi.
GSK retained control of prescription Zantac in the U.S., which it sold until 2017.
On October 18, 2019, Defendant Sanofi recalled all brand-name OTC Zantac in the U.S.
In 1997, the original Zantac patent expired, allowing other companies to sell generic ranitidine products. Seventy-five companies eventually sold generic versions of ranitidine over the next two decades.
The Brand-Name Manufacturer Defendants continued to sell prescription and OTC ranitidine.
OTC Zantac antacid tablets had sales totaling $128.9 million in 2018.
Dangers of NDMA
N-Nitrosodimethylamine ("NDMA") is a toxic chemical and a danger to human health.
NDMA is a carcinogen. As the Master Complaint puts it ominously, "its only use today is to cause cancer in laboratory animals."
Since 1980, companies have pulled all kinds of products from stores that were found to contain high levels of NDMA.
In 2018, there have been recalls of several generic drugs to treat high blood pressure, including Valsartan and Losartan, (which I wrote about here).
Scientists believe any amount of NDMA can increase risk for cancer or other health problems.
In studies, laboratory animals taking NDMA orally developed liver, lung, bladder, kidney, pancreas, and stomach cancers.
NDMA is a small particle, which means it can pass easily through the body, including into the brain and into placenta.
But, studies also show that small amounts of NDMA can be fully metabolized in the liver, while larger amounts move throughout the body.
In 1995, several studies showed an increased risk in cancer for humans after ingesting small amounts of NDMA.
Studies in 1999, 2000, 2011, and 2014 reconfirmed the findings that NDMA can cause several cancers in humans.
NDMA Found in Ranitidine Products
In September 2019, an independent lab found significant levels of NDMA in ranitidine products. Four days later the FDA issued a warning that ranitidine (Zantac) may contain NDMA.
In the next days and weeks, companies began voluntarily recalling their Zantac and generic-ranitidine products.
On November 1, 2019, the FDA announced unacceptable levels of NDMA in ranitidine products based on recent testing, and requested that drug makers recall the medication.
On December 4, 2019, the FDA issued a statement warning consumers who still take ranitidine to limit intake of nitrite-containing foods, like processed meats.
The Complaint then throws a haymaker, noting that this was the same advice as the advice given by an Italian scientist . . . in 1981. Had GSK listened to the Italian scientists decades earlier, the Complaint argues, then millions of people may not have been exposed to dangerous levels of NDMA over thirty-eight years.
In 2020 studies showed that ranitidine products can develop NDMA when exposed to temperature changes over time. The conclusion was that ranitidine is time and temperature sensitive, meaning the longer it sits or the more often it is exposed to temperature fluctuations, the more NDMA it is likely to develop.
On April 1, 2020, the FDA recommended the removal of all ranitidine products.
In Part 3, we will look at the science behind the way ranitidine becomes NDMA.
Remember: These allegations come from the Master Complaint in the Zantac MDL and have not yet been proven in court.