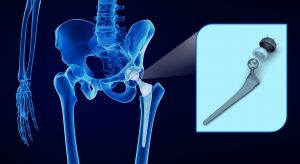 Earlier I wrote about how Exactech was recalling many of its ankle, hip and knee liner implants. These recalls were based, at least in part, on several studies about how these implants could suffer from premature wear. This could then require patients to need revision surgery (surgery to repair problems from an earlier surgery) to fix the defective artificial joint.
In this blog post, I'll take a look at some of these studies and try to explain what these studies found, what their findings mean and why they prompted Exactech to initiate these recalls.
The Materials Used in the Hip, Knee and Ankle Inserts or Liners
The Exactech recalls we are discussing relate to the material used in these implants, which is UHMWPE (ultra-high molecular weight polyethylene). Until the implant gets placed inside a patient, it must be carefully stored in oxygen-resistant packaging. This is to prevent the liners and inserts from coming into contact with too much oxygen (the air we breathe contains about 21% oxygen).
The Basis for the Ankle and Knee Liner Insert Recall
The scientific explanation concerning these recalls is complex. The primary reason for Exactech's recall of its ankle and knee products appears to be the result of a review of patient data. Specifically, how an unusually high number of patients received revision surgery because of faster-than-expected wear of the liner implant.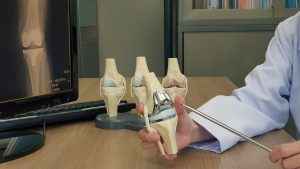 Exactech has tried to figure out the exact cause of the higher failure rates. One potential cause may be the result of improper packaging of the product. As mentioned earlier, UHMWPE doesn't like to be exposed to too much oxygen during storage. If it is, it could result in damage to the liner or insert, which could lead to premature wear once inserted in the human body.
The reason things are unclear is because the data used by Exactech is incomplete. The data doesn't differentiate between implants that come from production batches that used improper packaging and batches that had proper packaging. To be safe, Exactech has recalled all batches that could contain improper packaging, even though some of the products being recalled might be degrading or defective.
Studies Relating to the Hip Liner Recall
When it comes to the problem with Exactech's hip liner, what we know is that these hip implants use the same UHMWPE material. It's not established at this point that the hip products containing this material were improperly packaged. But let's step back for a minute to help put things into the proper context.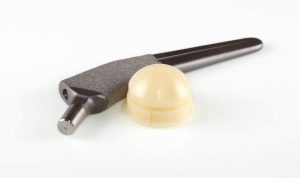 Before Exactech and other companies began using UHMWPE for their implant products, they used conventional polyethylene or highly cross-linked polyethylene. Highly cross-linked polyethylene seemed to work better than conventional polyethylene because it seemed to last longer in patients over the long term. But highly cross-linked polyethylene seemed more likely to suffer from cracks and fractures compared to conventional polyethylene.
Engineers and scientists went back to the drawing board and appeared to come up with the ideal material for hip, knee and ankle joint replacements: UHMWPE. This new material seemed to have the long-term wear properties of highly cross-linked polyethylene, but without the tendency to crack or fracture.
Unfortunately, there are at least three studies that found unusual rates of failure with hip replacements using UHMWPE. All of these studies are from the last few years and examined Exactech's Connexion GXL liner, a hip implant using UHMWPE.
The first study is titled, "Early Polyethylene Failure in a Modern Total Hip Prosthesis: A Note of Caution." It looked at individuals who received the hip implant in question during a ten year period and suffered from osteolysis (damage to bone tissue). The study identified twelve patients, nine of whom needed revision surgery.
The authors of the study didn't identify the cause of these results. But they later speculated that if there wasn't a problem with the product's design, the problem could be limited to a specific production batch and be the result of a manufacturing error.
The second study is titled, "Early Failure of a Modern Cross-Linked Polyethylene Acetabular Liner." It looked at five patients that received the Connexion GXL liner, but suffered from severe osteolysis and wear of the implant within five years of hip implant surgery.
The study did not conclusively identify the cause of the premature wear, but the authors suspected that there could have been a variation in how some of the Connexion GXL liners were produced.
The third study is the most recent and is titled, "Unexpected Wear of a Uniquely Designed Moderately Cross-Linked Polyethylene in Total Hip Arthroplasty." The researchers examined 38 patients who received Exactech's Connexion GXL liner. The study found higher-than-anticipated wear, with about half of the patients at risk for osteolysis.
So What Do These Studies Tell Us Exactly?
They tell us that there is likely a problem with Exactech's ankle, hip and knee implants that use the UHMWPE. Of course, more research and data are needed to understand if the problem comes from the implant's design or production process, or a combination of factors.
No matter what subsequent research finds, if you think you've received one of these joint products, you should talk to your doctor. Depending on what they tell you, if you want to look into your legal options, you should give me a call at 919.546.8788.
This post was written from publicly available studies and news reports. Photos are for illustrative purposes only.