Sadly, I've written about allegations of witness-tampering before. It is an awful and unethical thing, and it undermines the ability of a litigant to get a fair trial. Beyond that, it calls into question the legitimacy of our entire legal system.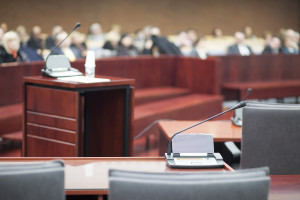 Witness-tampering is an attempt by one side in a trial to influence or change the testimony of an opponent's witness. Most of us have seen dramatizations of witness-tampering in movies and on television. Maybe the most famous cinematic depiction of witness-tampering was in Godfather, Part II, when Frank Pentangeli changed his sworn testimony in a Senate Hearing investigating Godfather Michael Corleone's corruption and murder. Prior to Pentangeli's testimony, Corleone flies in Pentangeli's beloved brother from Sicily, an unmistakable message to Pentangeli that Corleone can reach anyone in Pentangeli's family, and that no one is safe. Once the hearing begins, Frank Pentangeli changes his testimony, and he testifies that he knows nothing about the mafia or Michael Corleone, and that he gave a prior sworn statement under extreme pressure from investigators. It is a dramatic moment in the film, and the witness-tampering allows Michael Corleone to avoid findings of corruption and murder and a likely criminal conviction. You can check out that famous "witness-tampering" scene here.
In the world of product liability cases, allegations of witness-tampering are much less dramatic, but witness-tampering any case can have devastating effects. If a key witness changes his or her testimony, the case can be lost for the litigant who relied on the original evidence.